Pumpkin Spice Latte Lip Balm
It's that time of year again, loves!!! You know, the PSL, sweater weather time of year! Only, this PSL is made with clean, organic ingredients, fits in your pocket, soothes chapped lips and smells yummy all day long! You're going to want to eat this lip balm, but please, don't.
PSL Lip Balm
Soothing Salve
Your saving grace is this Salve right here! Got itchy bug bites? An Irritating rash? Did you scrap your knee while frolicking outside? Was your inner Chef cheffing a bit too hard?
A wonderful blend of organic, hand infused Plantain, Calendula and Comfrey Oils come together to help sooth your skin and get you back to doing what you love!
Soothing Salve
Timeless, Anti-Aging Face Oil
Our newest product is this gorgeous golden face oil, TIMELESS!
Made with Organic Rosehip Seed Oil, Organic Pomegranate Seed Oil, and Organic Sunflower Seed Oil (high Oleic Acid). Thats it!
Rosehip Seed Oil is rich in essential fatty acids, antioxidants and vitamin C, helping to reduce fine lines and wrinkles, brighten the skin and help fight free-radicals. Commonly refered to as the "Oil of youth".
Pomegranate Seed Oil is rich in fatty acids, and nutrients, helping to repair dark spots, acne scars and sun damage. It boosts collagen production, enhances skin elasticity, and moisturizes the skin.
Sunflower Seed Oil is a great source of vitamin E, rich in nutrients and antioxidants, helps skin retain moisture, and is effective for combatting acne, inflammation and irritation.
TIMELESS FACE OIL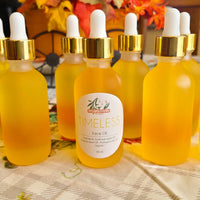 Armpit Detox
Have you detoxed your pits yet?
Our newest addition is ideal for those who are transitioning to natural deodorant or those who just want to deep clean their pits.
Made with 2 powerful ingredients:
Bentonite Clay and Activated Charcoal. Both work to deep clean pores, draw out heavy metals and eliminate odor causing bacteria.
Armpit Detox
What our customers say:
"Shout out to this awesome, woman owned, local business [...]Kristina makes amazing non toxic, heavy metal free deodorant. Happy to say that it works really well"

Kayla
"This is by far the best bug bite relief cream I've ever tried. I got 26 bug bites on my feet and wanted to saw my feet off because the itch was so bad. This completely took the itch away and the relief lasted for around 8 hours, compared to hydrocortisone that I'd have to reapply every two hours (and I had prescription strength 2.5%). I will recommend this product to everyone. It deserves more stars!!"

Airyn
I've tried dozens of natural deodorants and none of them worked. Then I tried this one after doing a detox and it smells and works great! I don't smell, I sweat less and there are no marks on my clothing!! I highly recommend her deodorant. The lavender is my favorite one!

Becca
I love this deodorant! It smells amazing and it last so long. I wore it to hot yoga and my pits still smelled fresh after. Wow!

Ashley
"l should have started using this earlier because ooo girl this Cocoa Kissed got me flirty"

Marquice
I have been using oils for my face for years now but this was my saving grace after holiday madness when I least took care of my face. It revitalized my skin and brought it back to life! I've hooked a few friends and family onto this after they asked how I was able to revive my dull skin and look so hydrated.

Vanessa P.
Natural products
Vegan Mineral Sunscreen
Our Vegan, Natural Sunscreen is perfect for any of your adventures under the sun! Surfing, kayaking, hiking, skating, you name it, we've got you covered! Check out our full line of summer skincare today!
Summer Skincare
Eco-Friendly + Vegan Deodorants
Our deodorants are always vegan, organic and aluminum free! We offer 5 different scents with baking soda AND baking soda free!
Vegan Deodorants
Ethical + Natural Lip Balms
We now carry VEGAN lip balms as well! Your Lips will thank you when you try any of our 4 Lip Balms made with Ethically sourced Beeswax! We work with beekeepers who's top priority is the safety of their bees!
Lip Balms